Card: Is any credential that can be assigned to a cardholder. A card will also be associated with one of more access level that will define where and when the card has access to specific readers.
The Cards page will list all cards in the partition. To view details about an individual card, click the specific row in the list.

To add a single card to the system, click "Create New". To add a group of consecutively encoded cards, click "Create Batch". When adding cards in batch, enter a starting card number along with the total number of cards to add. All other options will be that same as when adding a single card.
The individual card page contain details about the card and defines specific functionality of that card in the the application system.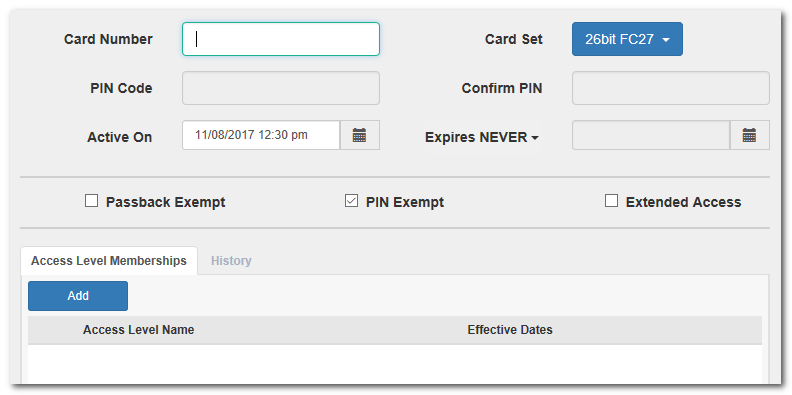 Add access levels to the card to define when and where that card will gain access. The below graphic shows a card with two access level memberships.
When adding access levels to a card, the default effective date is "Always Active". To change this default and create a temporary access level membership, click the down arrow under "Effective Dates" for the specific access level membership and select and start and stop date/time.
| | |
| --- | --- |
| | There is a hardware limitation of eight access levels per card/controller. |