The Settings page contains information about partition object counts and licensing. This page will also allow the configuration of the header logo and SMTP (email) settings.
Counts
The Counts tab lists all the objects in the partition and their counts.
Customization
The Customization tab allows the header logo to be changed. Click the 'Select' button to browse the local PC for the logo graphic file. Click the 'Restore Defaults' button to set the default AMT logo.
| | |
| --- | --- |
| | There's no limitation on graphic size, but the software will change the height of the graphic to 50 pixels while maintaining the original aspect ration. |
SMTP
The SMTP tab allows the configuration of the partitions SMTP settings. SMTP stands for 'Simple Mail Transfer Protocol' and these settings are required for the system to send text message or email notifications, including emails to assist with forgotten passwords.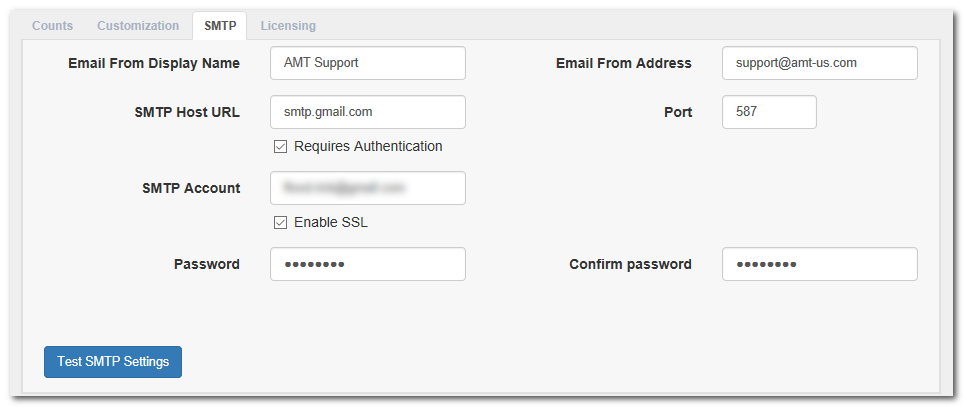 Ideally, using the local SMTP server is recommended. The above graphic shows settings to use Google's SMTP server. In this scenario, modify the "Email From Display Name" and "Email From Address" to something that makes sense and change the "SMTP Account" and password fields to match a valid Google account.

NOTE: Google SMTP service does have limitation on how many email it will send per day. As of 10/19/17, that limit was 150.
Licensing
The Licensing tab will contain a detailed list of all system licenses. The System Uniqueness is also presented in the upper left hand corner.
| | |
| --- | --- |
| | When contacting technical support, you may be asked for the system uniqueness (upper left of the Licensing tab) and/or the software version, which can be found in the footer of the Web Client. |